Global Quality
Tokiwa Manufacturing's key products are major components of the chainsaws and cutting machinery that are essential for agriculture and forestry.These items are produced through the union of our expertise across a wide range of areas such as cutting, grinding, gear cutting, welding, heat treatment, and assembly.
Products
Gears
Gears adjust the power provided by an engine or motor and allow for changes in direction. They are found in the gear case on the front of cutting machines (such as grass cutters), in the gearbox of hedge trimmers, as well as in the scanning mechanism of marine radars.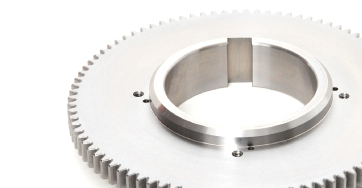 Clutch drums
Clutch drums transmit engine power to or isolate engine power from other drive components. they play a role in starting and stopping chainsaw chains and mower blades. They are found in a wide variety of equipment including chainsaws, grass cutters, hedge trimmers, power sprayers, compactors, circular saws, and earth augers.