Consistent production system
Niigata factory which is the main factory of Tokiwa Manufacturing Co., Ltd. and headquarters factory enables integrated production from material purchase to completion, 24 hours operation.
By clearly clarifying the roles of each factory and giving each one its characteristics, synergies are created for the entire company. Between each process, we deliver products with gratitude to the words "customers are next process".
Flow to shipment

Mainly responsible from blank making through CNC lathe to gear cutting process.We aim to automate and thorough 5S.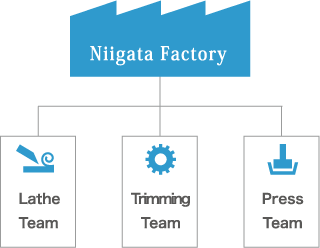 Iron (SS) Chromium-molybdenum steel (SCM) Carbon for mechanical structureAlloy (S45C) Hot rolled steel sheet (SPHC)
●Material (iron rod) is carried in

Inner / Outer Diameter Cutting / Press Working
●Process the material and build a blank

Cutting / broaching Hob processing / bevel gear processing

Shipment to head office / heat treatment company
●Heat treatment, plating treatment


Piston processing line and assembly line are established centering on various finishing processes. We are working on quality improvement every day, such as introducing a three-dimensional measuring machine.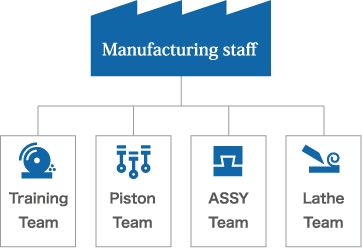 First to second machined products (Niigata Factory)
●A blank is delivered from the Niigata factory or cooperating factory

Tempering / carburizing quenching / induction quenching / brazing

Inner / Outer Diameter Cutting / Projection Welding

Plating / dyed black
●Heat treatment, plating treatment

Assembly / polishing
●Perform final finishing processing (mainly polishing processing)

Finished / shipping inspection
●Packed in shipping cardboard, shipped to customer